Interactive, Multi-sensory, and loved by children!
Monster Board Game Levels
00013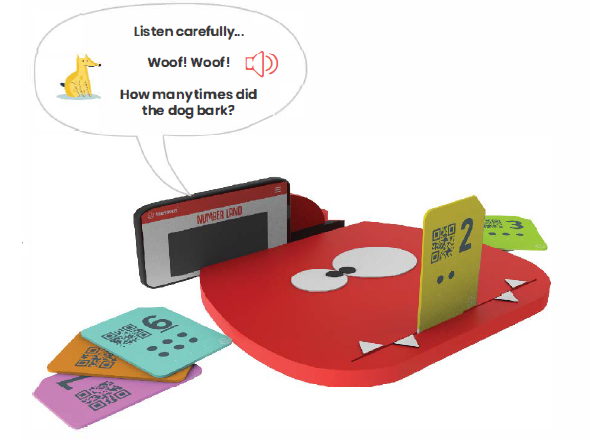 Monster board (To be purchased separately) is an interactive, very amiable but hungry, cute but angry, little monster who just wants numbers for lunch.
Carefully designed to be an independent play and meet all of your child's math practicing needs, this monster challenges your child with numbers.
Being a little competitive in nature, it pushes you to respond faster, thereby sharpening your math skills.
It comes in two character forms.
To be used along with number cards and Tactopus app.
As the game progresses, the monster gets more and more serious about numbers. So feed him fast and keep him happy!
Math Monster Game Level - I
Count to 9, single digit number identification, number comparisons (before, after, in-between, greater, smaller).

Math Monster Game Level - II
Introduction to double digit numbers, place value.

Math Monster Game Level - III
Counting numbers up to 50 (later up to 100), Single digit addition and subtraction.
Made interactive with Tactopus app?:App
Math Monster Game Level
Level I (0) Level II (0) Level III (0)
Shipping
Free shipping across India on orders above ₹600
Institutional/Bulk Orders
For orders of quantities greater than 10 units, please write to us at hello@tactopus.com with your choice of product(s), shipping address, and any specific requirements.
Ordering from outside India?
International orders are processed manually; please write to us at hello@tactopus.com with your choice of product(s) and your specific requirements if any.
Sponsor A Blind School
All our products are accessible to students who are blind or visually impaired. If you'd like us to donate a product, please add the product(s) of your choice to the cart. Just before making the payment, mention "for donation" under "Order Notes". We'll ensure the books reach a child who needs them!
Gift